Full-auto Bagasse Tableware Making Machine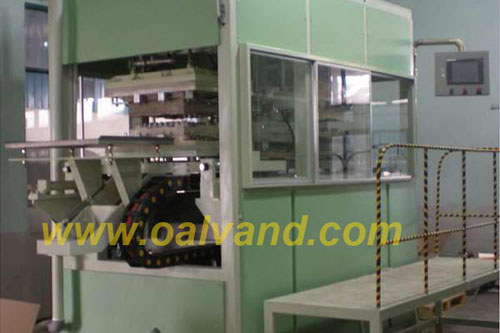 Product Features
Processing Raw Material : Bagasse(sugarcane); Bamboo Pulp
Finished Products : Biodegradable & Composatable & Disposable Tableware(Lunch box,clameshell, tray, bowls, plate, box)
Machine Type : Full-automatic
Certification : CE
CONTACT US
Disposable Tableware Making Machine/Bagasse Pulp Molding Machine:
OALVAND full-automatic Disposable Tableware production line is the advanced pulp molding new technology in fiber (pulp) molding machinery field (pulp molding process technology, pulp moulding dies moulds and production line). The entire production process(pulp moulding process) can be full automatic, automatic fiber molding,automatic hot-pressing solidification and automatic margin cutting , automatic counting, automatic package.
It is the unique full-automatic fibre (pulp) molding line in china (PATENT).It can use various straw pulps (such as reed pulp, rice straw pulp and bagasse pulp),bamboo pulp, wood pulp, palm fiber, coconut fiber and waste paper to produce various disposable molded pulp products and molded pulp packaging such as paper trays, molded pulp tableware, lunch boxes, instant noodle boxes, fine molded pulp egg tray, wine/champagne bottle trays, industrial packages, agricultural seedling cups, biodegradable cattle plug & sheep plug, lined skeleton for leather shoes, close stool sanitary pads, caps and masks, molded pulp decorated wall panels, molded pulp wall flats,(molded bamboo paper pulp wall tile).It has wide applications and may produce different products merely through replacement of molds. The environment-friendly products manufactured in this line are non-toxic, odor free, oil- and water-proof, and suitable for storage in refrigerator and cooking in microwave oven.