Newspaper Pencil Making Machine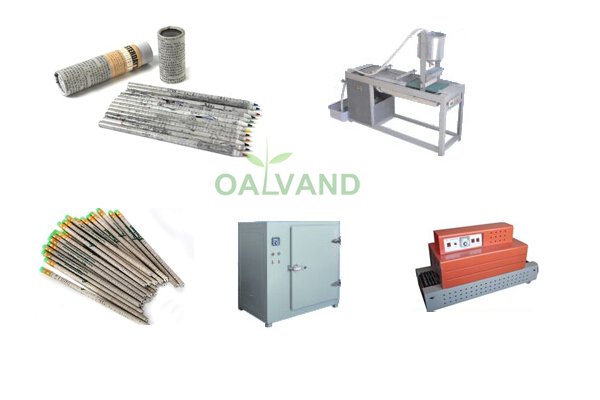 Product Features
Processing Material : Newspaper; Recycled Paper
Capacity : 10000pcs/day; 20000pcs/day (8hours shift)
Power : 380V 50Hz
Packaging : Wooden Case
For free paper pencil samples, pls contact us !
CONTACT US
Newspaper/Recycled Paper Pencil Making Machine:
Brief introduction of OALVAND Newspaper/Recycled Paper Pencil Making Machine:
1) This recycle paper pencil machine developed by our company can utilize the recycled and useless newspapers, waste book papers etc to make pencils as the substitution for timber.
2) Based on the purpose of protecting forest resources and ecological environment, saving the timber as well.
Characteristics of Recycled Paper/Newspaper Pencil Making Machine:
1) Raw Material: Newspaper, Recycled paper, Magazines
2) Production capacity: 10,000-20,000pcs per day(8hours shift).
3) Power: 380V 50Hz
4) Low cost of production.
5) Use of recycled newspaper as materials is very beneficial for environmental protection. Moreover, this kind of paper pencil is as hard as wooden pencil and very easy to be sharpened by the pencil sharpener.
6) Free of spray painting. Plastic film with cartoon characters is used as exterior package. Most importantly, this manner of packing is very popular with pupils. We can also customize printing plate especially for you so that you can print logo of your company etc on the pencil covers.
7) We can supply you with such materials as pencil lead and cartoon covers.
Main Equipments of Newspaper pencil making production line:
A. Paper Cutting Machine
B. Automatic Gluing Pencil Stick Rolling Machine
C. Drying machine
D. Pencil sticks head cutting machine
E. Pencil stick polishing machine
F. Pencil end cutting machine
G. Shrink machine (Optional)
H. Eraser machine (Optional)
If you want to find more details, please feel free to Contact Us.