Pulp Molding Packaging Making Machine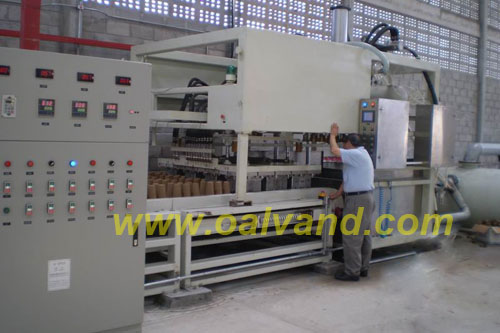 Product Features
Processing Raw Material : Bagasse(sugarcane); Bamboo Pulp
Finished Products : Biodegradable & Composatable & Disposable Tableware(Lunch box,clameshell, tray, bowls, plate, box)
Machine Type : Semi-automatic; Full-automatic
Certification : CE
CONTACT US
OALVAND pulp molding machine (molded pulp industrial packaging making machine) is a kind of machine to make various molded fibre industrial packages, by taking waste paper as the raw material, through milling, forming, drying and other procedures. Final paper products can take replace foaming and plastic products, which is very eco-friendly.
Practical application: Protective packaging for electronic goods, toys, cosmetics, pro-product for computers, personal computer parts, small home appliances, acoustic products, medical goods, automobile parts, hand and pneumatic tools, glass, pottery and porcelain goods, and application in making lunch boxes.
Advantages of OALVAND Paper Pulp Moulding Machines
1. Machines Sophisticated yet easy to operate
2. Rust protected solid steel construction
3. Fast interchanging of moulds with dryer linking option
4. User friendly control panel with low maintenance service system
5. Low cost of production due to less power, space and Labour
6. Choice of end product colour
7. Water proof products by using additives
8. High and fast return on investment
As environmental protection attached more attentions nowadays, paper products which is resolvable, reclaimable and can be repeatable used are taking the place of foaming and plastic products which results in "white pollution". Contact Us for more details.